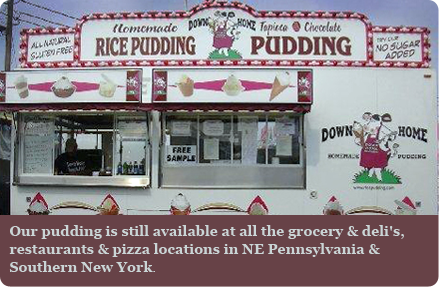 We wholesale over 150 Deli's, Grocery Stores & Restaurants in Northeastern Pennsylvania and Southern New York. If you cannot find our Puddings in your area, please contact us and we will let you know where it is available.
We are excited to be members of Pennsylvania Preferred. This is a program of Pa Department of Agriculture that promotes high quality foods produced in our State of Pennsylvania. It has a goal to support our local farmers, promote the purchase and use of PA-sourced products, ensure high food safety and quality standards and demonstrate ongoing commitment to Pennsylvania. We are proud to be a part of this program and encourage you to visit the web site: www.agriculture.state.pa.us
We are committed to making the finest pudding products in the marketplace. We haven't changed a thing; still using the same all natural products, from the same distributors and producing the same Rice, Rice with Raisin, Pumpkin Rice, Peaches n' Cream Rice, Pineapple Delight Rice, Banana Cream Rice, Orange Cream, Maple, "SUGAR FREE(made with Splenda)" Rice, Tapioca and Chocolate Puddings.
SUGAR FREE(made with Splenda) RICE PUDDING is now available in stores and restaurants. This pudding is a great sweet treat for many of you forced to count carbohydrates and sugars because of diabetes or the dreaded diet. SUGAR FREE(made with Splenda) has no sugar or salt added and like all our products it is ALL NATURAL, NO PRESERVATIVES. The ingredients are: whole milk, rice, eggs, vanilla, splenda and cinnamon.
Our puddings are still delivered to regional Grocery, Deli, Convenience Stores and Restaurants throughout Northeast Pennsylvania, and adjacent areas of New York State and New Jersey. We are working on expanding our delivery routes so that we can bring these exceptional HOMEMADE products to a larger group of people. We receive e-mail requests everyday for our product in areas that we cannot deliver to today. These are people that have tried the "Puddin' Cones" at the fairs and buy by the pound to take home.
Owner Chef Patti Brown is committed to keeping the same great quality that our customers have known for over 20 years! Sharon Hetzel, our Pudding Chef is dedicated to making certain our pudding is of the finest quality….